Petco Hours:
Meet & Greet Cats, Saturday 11-2 PM.
Shelter Adoption Hours:
Thurs 7-9 PM;
Sunday 1-4 PM.

What's New

Please read our 2013 Holiday Letter and help us continue to help cats & kittens in the year ahead! Read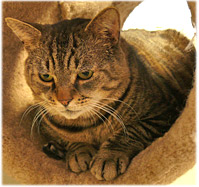 Some of the most wonderful cats in the world are in our Special Needs room and would love a home ... ask about them!

Please visit our Affliates page for links to Amazon, Barnes & Noble and other shopping sites. Milford Humane gets a percentage of each purchase you make via those links! Thank you! See Affilates >

Milford Humane shows cats at Petco in Milford every Saturday from 11-2 p.m. Details

Interested in volunteering, or getting involved with Milford Humane in another capacity? There are many ways to contribute to the well-being of the cats and the shelter's operation. We need and welcome your help! More Info