GIVE IT BACK WHERE IT COUNTS — All of July at Shaw's, Milford
Milford Humane Society will receive a $1 donation every time a $2.50 reusable GIVE BACK WHERE IT COUNTS Bag is sold for the month of July, at the Shaw's store located at 93 Prospect Street in Milford.
Please stop in to shop and pick up a bag to help our cats!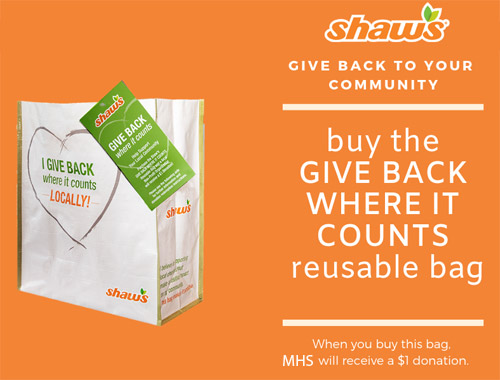 Yard Sale: August 17th, 9:00-1:00 pm
It's that time again. Please stop by the Milford Shelter, located at 289 West St.(Rte 140) in Milford for some bargains! It's a great place to shop for a dorm or first apartment. You can also turn your unwanted items into food, shelter and medical care for the cats.
All donations are tax deductible. Listed below are items that we would like to receive and those that we cannot accept.
Acceptable:

Clean, gently used, in good working condition
• household goods
• furniture
• garden items
• toys
• games
• sports equipment
• tools
• collectibles

Unacceptable:

• TV's
• computers
• monitors
• out-of-date or broken electronics
• fitness equipment
• air conditioners
• baby car seats
• mattresses
• large appliances
• clothes
• shoes
There are a number of reasons that we do not accept certain items, i.e., no space for storage, too heavy or bulky to handle, not popular on the resale market, out-of-date, unsafe, and last but not least is that the shelter would have to pay for the disposal of certain items.
We accept drop-off donations on:
• the day before from 4:00–6:00pm
• the morning of by 10:00am
Please keep in mind that all of this is for the many cats and kittens that come our way. Every bit of help and every single donation makes a difference. Thank you in advance!
2019 MHS Event & Fundraising Schedule
Event
When
Where

Yard Sales

August 17,
September 21
Milford Humane shelter

Cat's Meow Auction

November 2nd
Medway VFW

Craft Fair

November 30th
Milford High School

Open House

December 8th
Milford Humane shelter
"Pet of the Week" on WMRC, Wednesdays at 7:55 AM
Every Wednesday one of Milford Humane's cats is featured on WMRC Radio in Milford, 1490 on the AM dial. Listen in to hear about our cats and upcoming fundraising events!
For further information contact:
The Milford Humane Society
P.O. Box 171
Medway, MA 02053
(508) 473-7008
e-mail: bfcat@aol.com